Digitimes
Japan-based PC vendor Fujitsu has launched the 12.1-inch LifeBook T4310 tablet PC priced at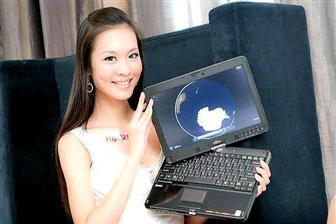 NT$52,800 (US$1,625) in Taiwan along with the 11.6-inch LifeBook P3110 and 12.1-inch LifeBook P8110 ultra-thin notebooks priced at NT$29,800 and NT$48,800, respectively.
While LifeBook T4310 is priced higher than the NT$25,000-35,000 asked for tablet PCs by first-tier vendors, Fujitsu Taiwan emphasized the T4310's high quality and specifications, as well as its "made in Japan" origin.
Fujitsu Taiwan pointed out it sells about 100 tablet PCs per month in Taiwan mainly to the medicare and education markets, but with the new tablet PC entering the consumer market, sales are expected to increase in the future.
The LifeBook P3110, made by Quanta Computer will only be sold in the Asia Pacific market and the company plans to launch another P3 series model made by Inventec in the future. The LifeBook P8110 is produced by Fujitsu in-house.